30kVA Model For 2019 – Next Generation Tech
You will have to give it to the R&D team of Genset Malaysia. They had designed and improved the MGM Generators for over 11 times now. The latest iteration of the model shows a more sexy and good looking generator which has nice shapes and curves. It also has improved silence, better accessibility for generator servicing and parts replacement and higher quality hinges and connectors. If you have used one of the MGM Generators before, you will realize that even the previous models are way ahead of the competition. But Genset Malaysia had not rested on their laurels, hence they kept innovating and improving. As a result, you will realize that Genset Malaysia is a leader in Generator design and superior in its sub 150kVA class of Generators which includes the 15kVA, 22kVA, 28kVA, 30kVA, 60kVA, 100kVA and 150kVA.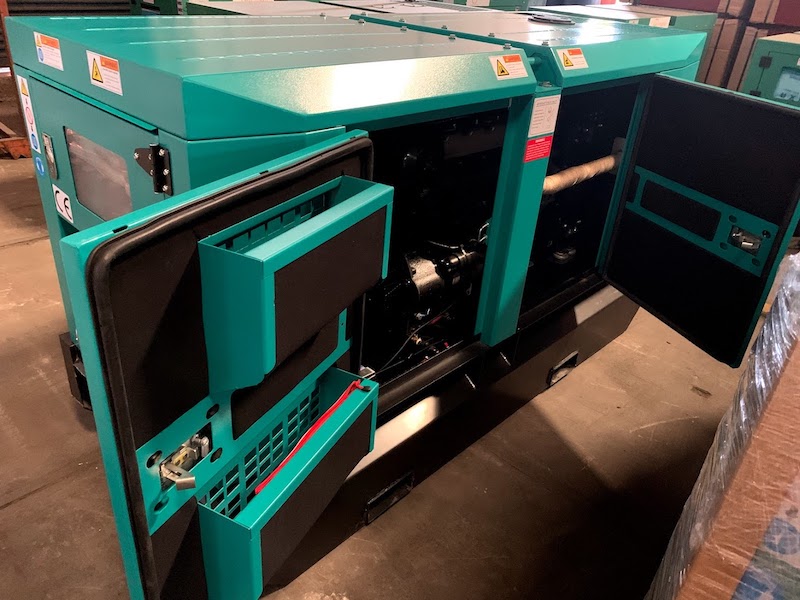 Quality With Excellence
Ask our past customers who have purchased an MGM Generator before and you will realize that Genset Malaysia provides great service, great response and is still around after many years. Many have come and gone but Genset Malaysia has been around for years and still takes care of customers since the Mark 1 generation.
The doors close tight and is water resistant while the hinges last a long time and withstands dust and rusts. Careful design is done when the generator was designed from scratch.
You will realize that even the Grounding Rod is of high and premium quality.
Upgradable
The 30kVA MGM Generator can be upgraded to include an Automatic Transfer Switch panel box should you choose the option. This option will allow you to connect the generator to the Mains Grid (Tenaga Nasional Berhad for West Malaysia) and this generator will become a standby generator. Hence when there is an electricity blackout, the Genset will automatically start, changeover and take over the load so that you can go on with your normal lives and have your good night's sleep.
It can also be upgraded with the Oversight Module which will allow you to monitor your generator and control it using your mobile phone.
Features
Our 30kVA MGM Generators come with built in 3 phase sockets (2 units)? and a single phase socket and it comes with Mini Circuit Breakers of its own for safety purposes.
We also have a MCCB which will increase safety and can be upgraded with an ELR (Earth Leakage Relay). Our Generator is also compliant with the Suruhanjaya Tenaga should you choose to apply for it. Contact us and we can help you apply this license too.
World Class Alternator
We are proud to announce that our 30kVA MGM Generator Mark 11 is now powered by the world class branded Stamford Alternator. This is a world renowned household name which signifies quality and power generation hygiene. We previously had an article on Stamford which you read about.
Pricing And Availability
We are delighted to announce that as of the time of this writing, the 30kVA MGM Generator Mark 11 is now available. You can purchase it online by calling us or by visiting our showroom.