Backup Generators For Hospitals
UPDATE: 21 July 2021
We provide Generators For Hospitals During This Covid-19 Pandemic In Malaysia
The Generators are used to power the medical equipment such as Oxygen Concentrator, MRI machines, X Ray machines and the hospital labs. Contact us now to hire or purchase a genset.
Hospital is a place that provides treatment for the patient. There are many different types of electrical equipment used in a hospital for medical purposes, such as oxygen machines, MRI machine, patient monitor, surgical table and more.
The medical equipment require a stable voltage to operate.
In Malaysia the Electrical Voltages and Frequency that we use are: 
i) 240V for Single phase and 415V for 3 phase
ii) 50Hz as our frequency of our voltage
iii) The generator size would depend on the amperes required in total by the Hospital.
Why choose MGM Generators to supply hospitals:
i) The MGM Generators are reliable
ii) They have an excellent support team
iii) They give great advice to help you save money
Therefore find out first the size of the generator that you require by calculating the amperes needed for all the equipment needed to be backed up by electricity.
These machines are all running by electricity. If there is a power outage, these machines will also down, and it will cause a huge impact for the patients. Therefore, a backup power supply is very important for the hospitals to handle any emergency cases.
Hospitals need emergency backup generators in case of an electricity outage from the national grid. These backup generators need to be in good condition and not too old in terms of age to make sure it works well. You can buy or rent generator set from us and we can help provide maintenance service for your generators.
Note: To get the latest Covid-19 updates in Malaysia, visit the Ministry of Health of Malaysia's website.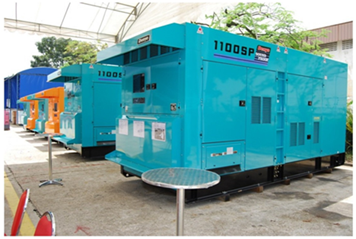 We provide standby generators for hospitals, clinics and other sectors. Contact us now to find out more.