PROMOTION FOR SABAH AND SARAWAK CITIZENS:
60kVA With ATS Genset Promotion:
To put it

simply

, it comes with:
1) ATS: The most important feature for a home/office or shop. It will do the switch over of electric current source and will start and stop the genset for you.?
2) Battery Charger. What's the use of ATS if the battery has died. This will ensure your batteries are always fully charged whenever there is a blackout.
3) Voltage Adjuster: It can go 133V/240V/415V so that you can use most of the equipment in the world.
4) Frequency adjuster. Some countries' equipment run on 60Hz and this genset can do it too. Malaysia uses 50Hz by the way.
5) Reliable Engine: Cummins Engine. This USA brand (Manufactured in China) is easy to maintain and cheap to buy parts. Many mechanics in Malaysia are familiar with this engine. You are getting a good engine, 4BTA model.
6) Comes with a branded Digital Controller, Deep Sea Electronics 6020 model. It is a UK brand and gives you Fuel Level indicator digitally. Most gensets don't have this feature.
7) Comes with Built in Sockets (see spec pictures) so you can plug your equipment directly to the genset.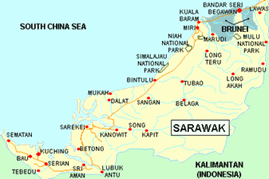 Providing Power Supply To Sarawak Areas Now
Genset Malaysia is now opening up its coverage in Sarawak areas now where it previously opened at Sabah. Because of that we now sell and deliver generator sets to the main areas of Sarawak such as Kuching, Serian, Miri, Sibu and Bintulu. Our generator sets are suitable for use at the waste water treatment plant, homes, workshops, construction site and the oil and gas purposes. With Sarawak's 2 million plus population, the generator sets will serve the vastly spread out population where power lines are hard to reach.
Some tips: If you are looking for a generator for your home such as a link home or a semi detached home, you can opt for the 25kVA Generator. If you live in a bungalow or believe you would need more power, you can go for the 60kVA Generator too.
LATEST TECHNOLOGY: AUTOMATIC TRANSFER SWITCH (ATS):
How would you like your generator set to turn on by itself?and continue enjoying your air conditioning when the mains electricity is out of order? How would you like your generator to also turn off by itself when the mains electricity comes back on? Introducing the NEW GENERATOR SET WITH ATS where it can detect such events and act accordingly to ensure your electricity is uninterrupted! Read more here!
Our Recommendations:
For construction sites, we normally recommend either a 60kVA or a 100kVA generator set to power up the tools such as welding sets or cement breakers.
Feel free to enquire from us now by using the contact form?below. As a bonus, we will send you a spec sheet of a popular generator brand for your reference and safe keeping. Enquire now below!