Marine Generator Purchase Malaysia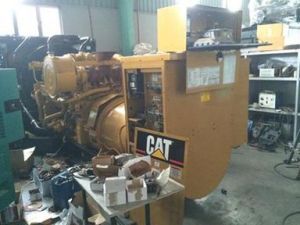 We provide the supply of Marine Generators for ships, vessels and barges for the sea industry. We typically supply 60kVA, 100kVA, 125kVA, 200kVA gensets but we can also cater for larger requirements.
These generators are typically used to power the ship's electrical equipments and provide comfort to the sea men. We understand the stringent requirements of marine generators because we have been supplying generator sets to ships. One of the main requirement for regulation purposes is that the gensets supplied must have a classification which endorses it. Some of the famous classification society include BV (Bureau Veritas), DNV, NK (Japanese), CCS (Chinese) or even Ships Classification Malaysia (SCM).
Marine?generators are not the same as the normal generators that we are used to seeing by the road side, construction sites or at events. These gensets are typically more durable and made with higher grade materials to enable it to withstand harsher conditions such as unpure diesel (to a certain extent) and longer running hours.
Famous marine generator brands are such as but not limited to: Caterpillar, Cummins, Yanmar, Mitsubishi and Daihatsu.
Ships which uses marine generators are such as Fishing vessels, Merchant Vessels, Tug boats such as anchor handling tugs, pusher tugs and harbour tugs, barges also use them by placing them on flat top barges so that it can power up equipments such as the winches and anchor winches.
Feel free to contact us regarding marine generator sets. We can get them classed for you and can supply you the correct ship generator that you require. What are you waiting for? Call us now at the number above or use the Contact Us page!