Different generator capacities in kVA offered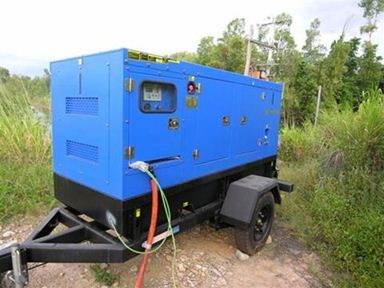 For civilian use, we normally use the following common sizes of generators in the market:
1) 25kVA generator – This is suitable for machines and tools which needs power where main stream electricity supply is limited.
2) 60kVA generator – The 60kVA generator is suited for Bungalow houses or constructing a bungalow house which requires power. This is enough to power multiple air condition units together with ample lighting. In addition, it can also be used for shop lots where there is a scheduled maintenance of electricity outage or a new shop lot which is awaiting for electricity supply. Call us to enquire now.
3) 100kVA generator – The medium fire-powered 100kVA generator is very suitable for medium to medium-high energy consumption because it can power up most equipments and if used properly could even power up several site offices.
4) 200kVA generator – This size is suited for the construction industry.
5) 300kVA generator – Another size suited for construction.
4) 500kVA generator – The high capacity 500kVA generator can be used to host dinners which needs a large sound system and a hundred tables of guests.
5) 1000kVA generator – This size is used for the Oil & Gas sector in major oil rigs and also can be used for factory shut down maintenance where the generator is used to supplement the electricity shortfall.