How Generators Bring Joy To Christmas Holiday
A portable generator can be useful no matter where you are in Malaysia. A portable generator can provide you with the power you need to enjoy your time outdoors, whether you're camping in the outback, tailgating at a sporting event, or having a picnic in the park. And if you're going to spend Christmas Day outside, you'll want the ease of a generator to power the lights and music as well as, of course, to keep your food and beverages extremely cold. Here at Mega Genset Malaysia, we do offer various power generators for you to enjoy your Christmas holiday with your friends and family.
Why Do You Need A Generator?
There are various reasons why generators are helpful during a Christmas Holiday including:
i) Protect Against Power Outage
For the holiday season to run smoothly, power is necessary. You depend on your electric stove to prepare your family's favorite meals, such as roast chicken and potatoes. To watch the major football events and the kid-friendly movies, you must have a television. Additionally, your lighting makes sure that the family can keep celebrating even after the sun goes down.
ii) Don't Let Lights Overload Your Electrical Circuits
Twinkling At this time of year, Christmas lights appear beautiful , but they can easily overload your electrical circuit. Strings of lights and animated holiday figures can cause traditional circuits, which are designed to run an average family house or company. When circuits are overloaded, circuit breakers and fuses trip or blow, which can impact your appliances and lights both inside and outside the home.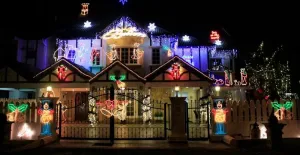 iii) Stay Safe In Severe Climates
For most of us, losing power over the holidays would be inconvenient and frustrating. This is where the generator comes in handy, it allows to power up your house without any inconvenience.

Here is a short video
Looking forward to celebrate your Christmas Holiday without facing any issues?? Contact us and get your very own generator now!!
Reach Us