Genset Rental Petaling Jaya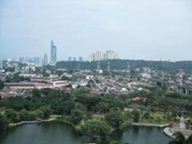 Genset Rental Malaysia now covers rental services at Petaling Jaya. The purpose of these generators could be for events, construction, MRT or LRT and even to supplement your home with a backup generator. Gensets are also used for supplemental electricity during factory shut downs. Our past customers include the FMCG companies and television companies within this area. They have provided positive feedbacks for our services done during that time.
If you require a generator for any of the above mentioned purposes, you can rest assure that we will deliver according to your schedule. For factory shutdowns for example, the generator capacities normally used is 100kVA to 1000kVA. If your requirement falls within this capacity, don't hesitate to contact us immediately and we will provide you our best quotations.?Our services for factory shut downs include providing cables, diesel and transportation to cater for your shut down needs.
Petaling Jaya covers a huge area of about 97 square kilometers and with our reliable transportation methods, we can serve your needs in this area.
Let us know what your needs may be now.