Wireless Remote Start Generator Malaysia | Comfortable Genset Start
Our Research & Development team had recently developed a way to start the generator without leaving the comfort of your work place or resort. It uses radio frequency, hence it does not require Wi-Fi, Bluetooth or 3G GSM signals. The range of this remote is reasonably far of around 100 meters in open space. Contact us to learn more.
Introduction to Wireless Remote Start Generator
When a generator has a wireless remote start capability, you may conveniently start your unit without having to be there in person. With a remote start feature, the engine may start without delay as soon as you press the start button since it automatically sends a signal to the remote start kit.A wireless remote start generator is a stunning piece of equipment. Working at night, possibly early in the morning, or in inclement weather is made easier with the wireless remote start feature.You can start your generator without going outdoors thanks to a wireless remote start feature. In fact, you may ensure that your households or devices are in good working order without ever leaving your bed.When the weather is bad, a wireless remote start is essential. The primary electrical grid frequently collapses as a result of bad weather. If you set up your generator in advance with care, having a remote starter will save you from having to venture outside in the rain, wind, or snow to start the generator. This may not seem to be a big deal at first. It can, however, save you from the potential hazards of slipping and falling. At the very least, it can make it easier for you to get through the power outage safely. The figure below shows an example of a 25kVA wireless remote start generator control system called 'SmartGen'. By pressing the 'Auto' button on the 'SmartGen', you can operate the generator with a 100 meters wide distance remotely. This feature is included in all MGM generators provided at Mega Genset Malaysia. Contact us to learn more.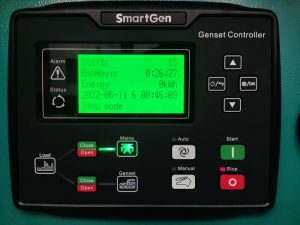 Additional Features
As for the additional features, Mega Genset are offering 4 major features which would help user to use the generator with ease. Examples of feature:
1) Auto Transfer Switch (ATS) – Function as auto start & change over upon main power failure.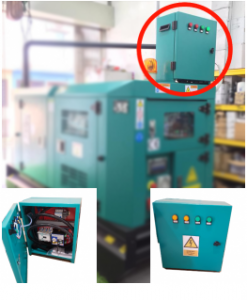 2) Oversight Module – Allows to monitor the genset status using IOS or Andriod OS.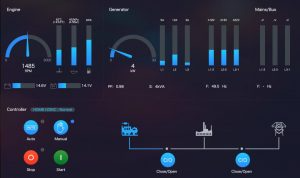 3) Telegram switch – A switch which allows to control the generator.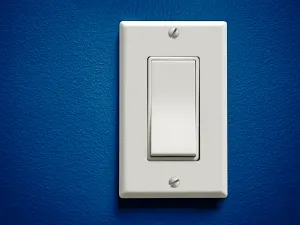 4) Radio frequency remote (RF Remote) – Design like a car key which consist of 2 button. Button 'A' to switch on the generator and button 'B' to switch off the generator.
What are you waiting for? Contact us now for more information.