Generator Assistant – The Only App You Need For Genset Operations
If you are a Generator Owner or Operator, you will know that you will need to be ready should your generator stop for some reason. For MGM Generators, if the generator shuts down, it means there is a fault. This fault can be due to abnormal parameters such as:
Low Lubricant Oil Level
High Engine Temperature
Overvoltage
Engine Underspeed
Engine fail to start
etc.
Now if one of the above happens, do you know how to read the Genset Controller to determine which of the above is true? We know this through reading the manual. However, not everyone is a fan of reading a manual, hence we created this app to simplify it for you. All you need to do is download the app, see the error logo on the Genset Controller and cross reference it with the app.
Once you determine the problem, you can fix it. Either by yourself or by calling us of course.

The Main Objective Of The Genset Assistant App
We did not create the app to make any money out of it, hence it is totally FREE. We also maintain the app to add additional information from time to time.
We created the app to increase awareness of having your own generator is not as difficult as you may think. Technological advances and improvements through our methods and design has enabled us to simplify our gensets in such a way that anyone can operate a genset without fear.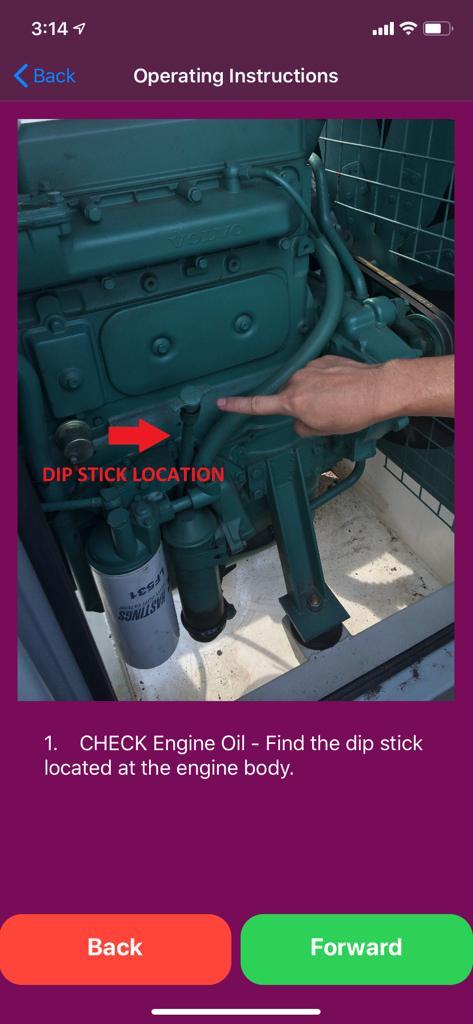 App Features
1. Genset Operating Instructions
If you use the App, the first item we have is to give you instructions on operating your generator. It shows you pictures with step by step instructions on how to start your generator. It also tells you good practices before you start your generator such as checking for lubricant oil level and water level. With such pictures and instructions, you can just tell your employees to download the app and execute the instructions without explaining anything to them. The app is self explanatory.
2. Genset Troubleshooting Guide
If you wonder why your generator wouldn't start, you can refer to this section. It tells you the common pitfalls of a genset and how a simple solution can usually solve your genset issues.
It tells you why your generator wouldn't start or stop and gives you a list of error codes.
3. Genset Tips
The genset tips section is for users who would like to learn more at their own spare time. It has the latest Genset Tips info from this website and you will gain lots of insight from it. If you don't know how important an engine Injector is, refer to this section.
4. Whatsapp Direct Contact
If you don't know our phone number, just use this app to Whatsapp us directly. We have staffs to answer your questions during office hours.
5. Currency Converter
If you are in another country and would like to export or import our generators, use this app to use the latest currency exchange rates. It will estimate your cost for you.
What are you waiting for? Get it now: