We Mega Genset Malaysia not only sell MGM brand, we also do sell other brands such as Caterpillar, Denyo, Doosan, Honda, Kubota, Volvo and many more. For Caterpillar Generator usually we supply as Marine Generator for ships, vessels and barges for the sea industry. Other than that, we also supply Caterpillar for industries too. We have a wide range of the Caterpillar generator to fulfill the customer's requirement.
Why Choose Caterpillar's Generator? 
Caterpillar is the world's largest manufacturer of generator sets, offering the largest range of specifications available.  For prime, continuous or standby power service, Cat commercial and industrial diesel generator sets deliver reliable, clean and economical power.
Each Caterpillar diesel generator set is designed, engineered and manufactured for optimal performance. All major components are tested individually; and once the generator set is assembled, the complete unit is tested at and above 100% of rated load for operation and safety.
Caterpillar is renowned for producing some of the finest power generators and industrial engines on the market today. With clean diesel engines designed to last for thousands of hours before any maintenance is required, you can rest easy knowing your Caterpillar genset will be there to provide the standby emergency or prime power when you need it most.
Caterpillar makes some of the most powerful and reliable diesel generators for many different applications. Hence, you can be sure to find a specific Caterpillar diesel generator for every power requirement. You can be confident that diesel generators by Caterpillar follow global standards for low fuel consumption and high efficiency. Moreover, every diesel generator for sale is built to global emissions compliance, and engineered, manufactured, and designed for optimal performance.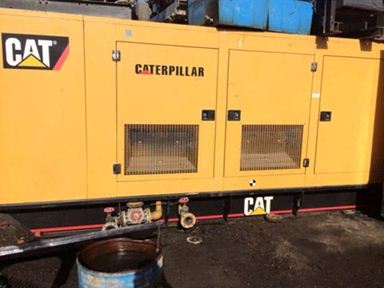 Benefits of Caterpillar Generator
Caterpillar diesel generators are able to deliver clean, economical, and reliable power, especially in the most demanding environments and conditions. Caterpillar supplies generators for standby, continuous, or prime power effortlessly. They test every diesel generator after assembly and the units must pass operational and safety requirement in order to be sold to the customers
For low fuel consumption and high efficiency and overall world emissions compliance the CAT Diesel Generator Sets are available in a range of options to match your needs.
CAT generators have a huge advantage over other brands as they come with the expert service and comprehensive support of your nearby CAT distributor. It begins with quick delivery and continues through the ownership life of the diesel generator sets.