MGM Malaysia's Most Advanced Generator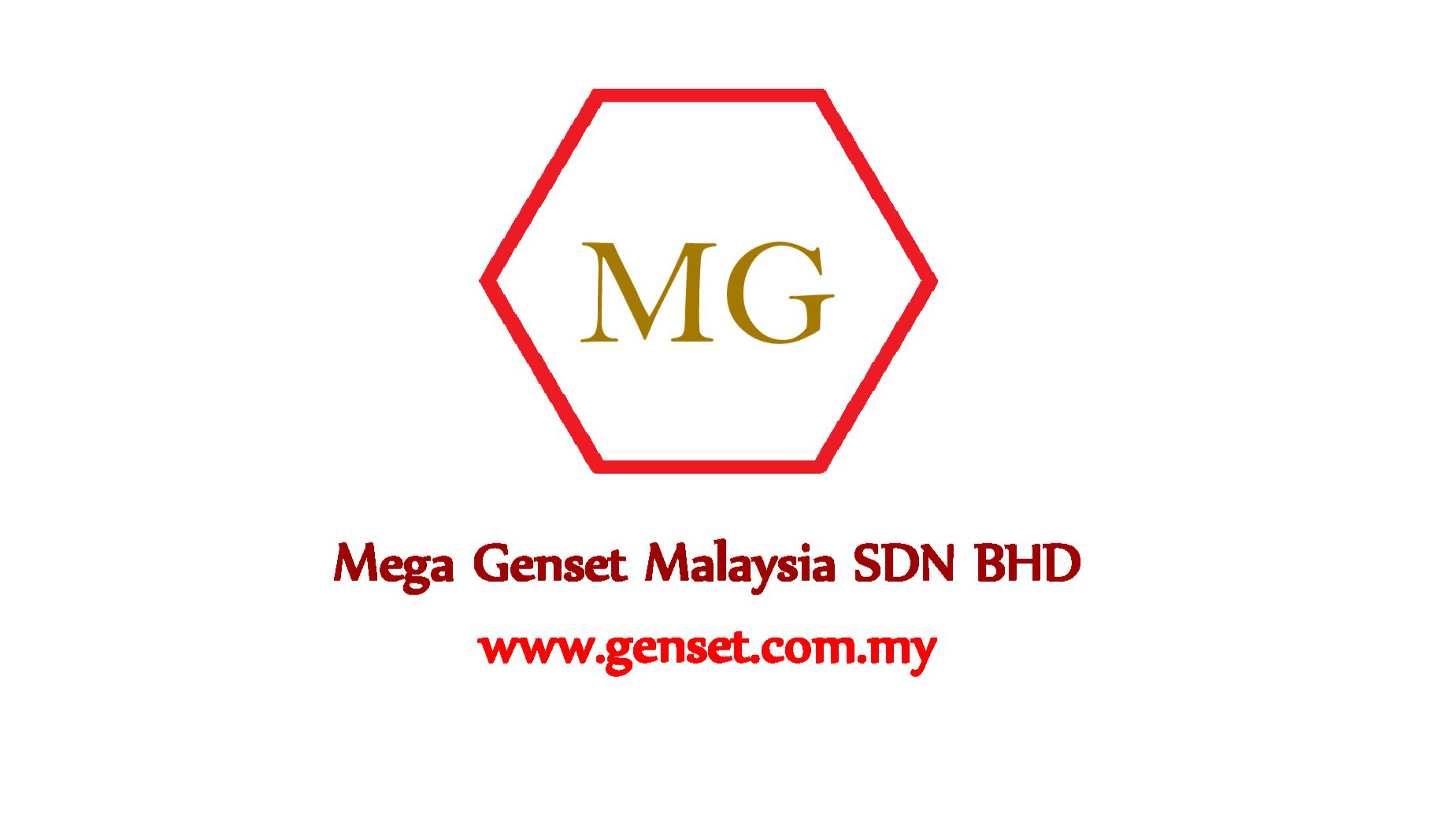 Mega Genset Malaysia is a Malaysian trusted brand. We have over 6 years of expertise experience in power generator field and served over 100 of companies within domestic. We dedicate to provides superior generators to supply to our customers. Therefore, our mission is strive to offers a much more affordable and reliable generators on the market in order to maximize our customer's benefits.
We've established our own brand, MGM since 2014. Our generators are design by our professional and assemble in China with the purpose to offers greater affordable pricing to our customers.
Furthermore, user experience also considered as an importance to us. Thus, our priority is to develop ease of use generators to offers our customers the easier way to operate the generators.
When we design the MGM Generator, we wanted to make sure our customers are covered at every angle. From the computer systems right up to the refilling cap, we want to make it simple, practical and safe. The fuel cap is rust resistant and is fitted with a fuel locking mechanism which prevents diesel theft. The socket is water resistant and it built whether with 3 phase socket and 1 phase socket. Our generator have the emergency stop button to ensure the genset  stop operating immediately when there is a risk of injury or the workflow requires stopping.That is intended to prevent harm people, machinery, or working.
Running a generator and owning one should be easy and suitable. Therefore, we are here to bridge this gap between customer. When you buy from us, we provide a long-term post sales service to our loyal customers which includes maintenance and spare parts supply if there is require.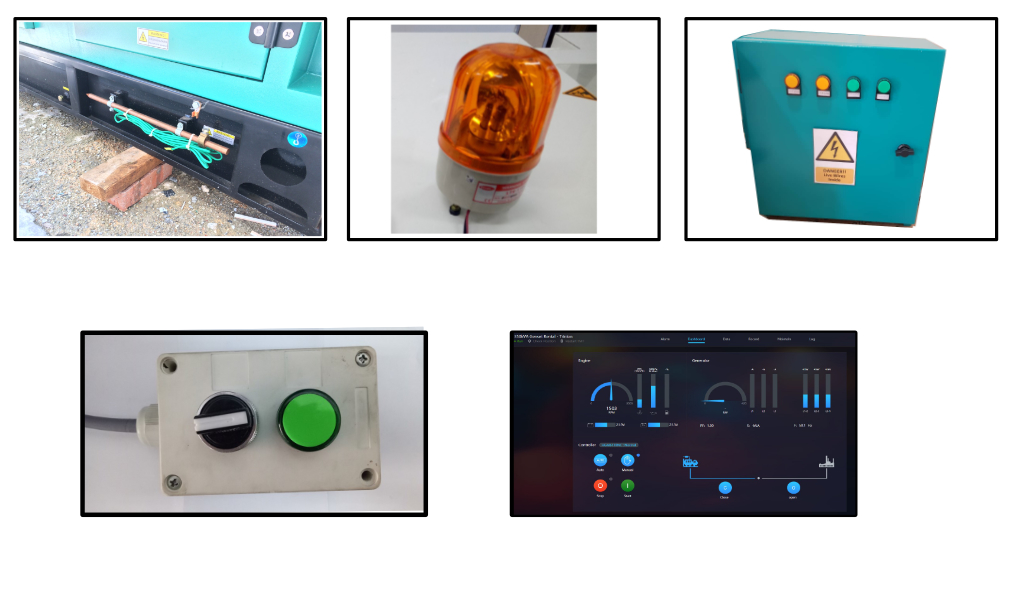 We also have various additional option to pair with our generator such as Auto Transfer Switch, Telegram Switch, Brass Coated Grounding rod, synchronize board , Oversight Module , Genset running light. Auto Transfer switch is shall changeover from TNB to genset. It will automatic switch on the backup generator when TNB cut off the power in order to ensure continuous and reliable electrical power to critical loads.
Telegram switch is a 30 meter long cable which is connected to the generator. It has a switch attached to it. From the switch, you can turn on or off the generator just by flicking the switch. We are using brass coated grounding rod for our genset to protect the quality.  MGM Generator has a whole load of features and capabilities built onto it, we also do not want to compromise on safety.
Hence we revolutionized the Malaysian Genset industry by introducing the Grounding Rod. We made sure each 3-phase MGM Generator come with this rod even though it adds on to our own cost. This is a convenient feature for our  customer to ensure the circuit will trip when there is a fault.Rotary Alarm Light is using for every generator to ensure the generator is running light.
Oversight module is an application that can control from far away with different places using laptops, computers, hand phones and tablets. It is Malaysia's first genset monitoring system powered by Mega Genset Malaysia. Oversight module can be accessed via smartphone and required 3G sim cards which allows people to check access critical notifications, identity faults, and system status , in terms to reduce your operation and maintenance costs and increase productivity of production.
Some Photo Satisfaction Past Customer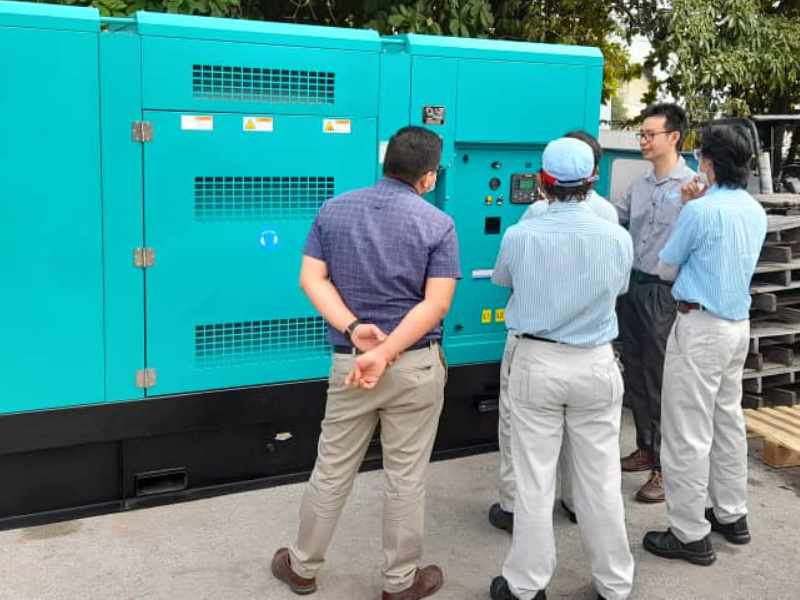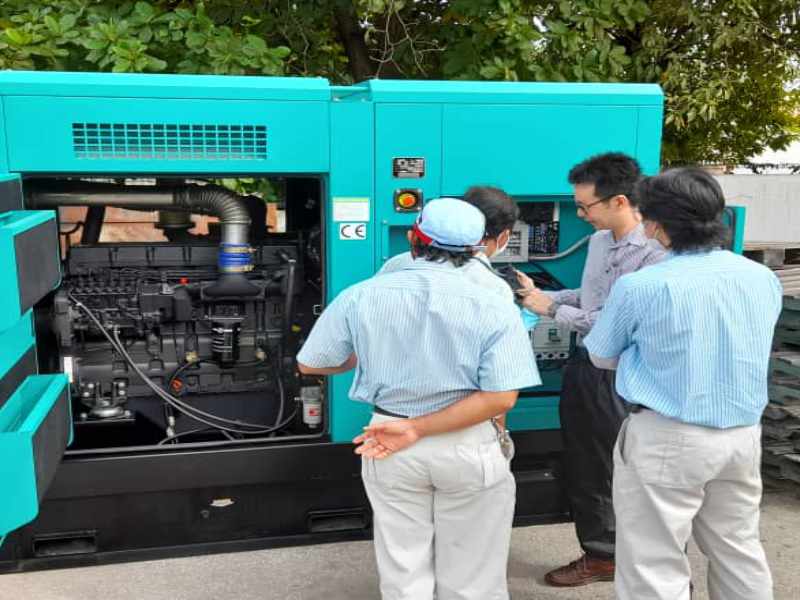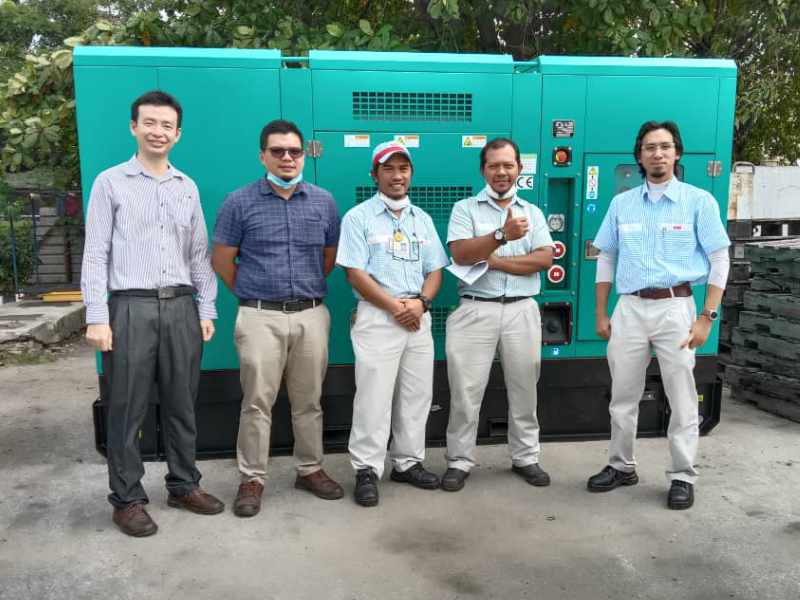 Recently, our customer (Kyudenko Malaysia) bought one unit of 250kVA MGM Generator Mark 12 for their company backup power .Kyudenko guys also visit our warehouse to get more guidance and knowledge about this generator . For every purchase of MGM Generator, our professional technician will explain clearly how to take care the genset and we will service their generator after 300 hours usage .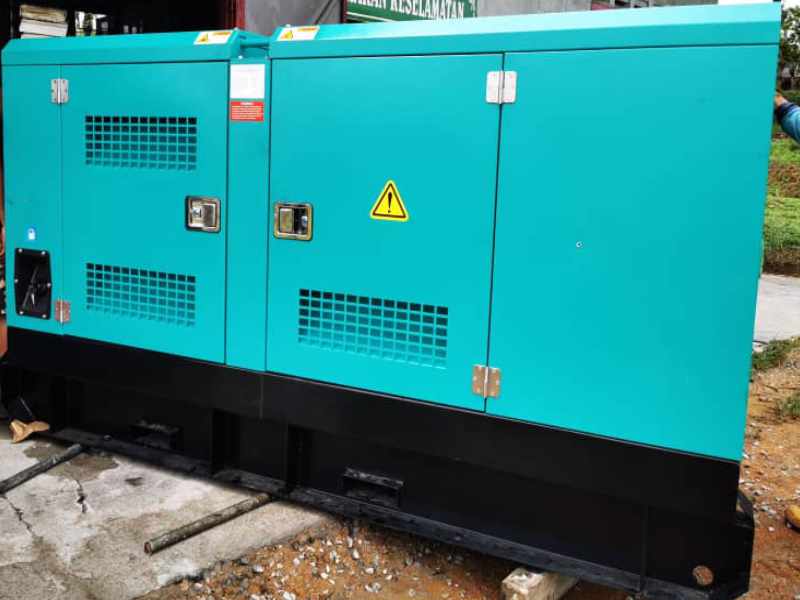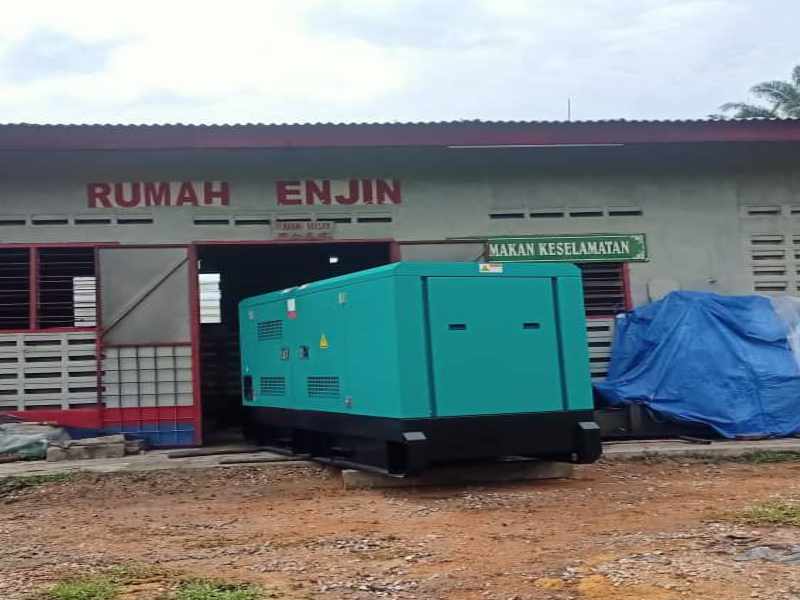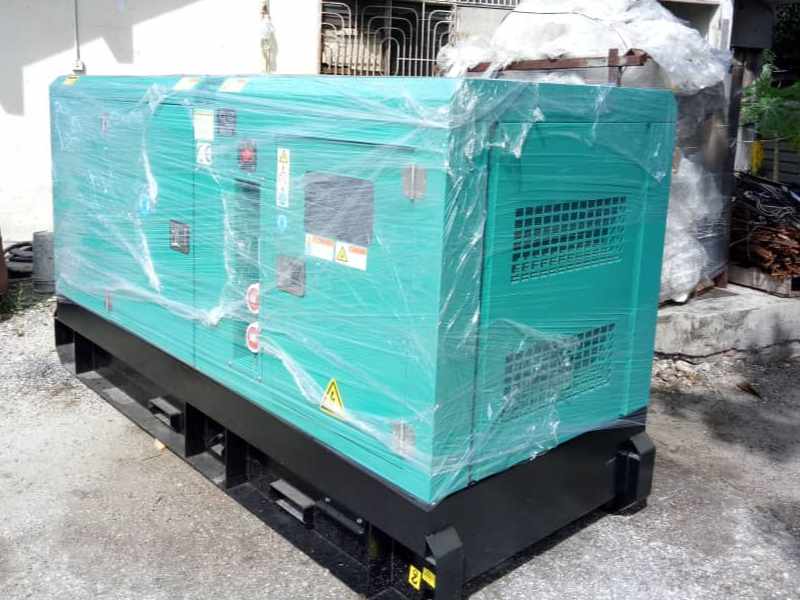 Plantation Sdn Bhd
Our previous customer bought 100kVA MGM Premium Generator Mark 12 for their plantation power supply. We will do loading unloading for the genset to ensure the customer will satisfied with our service. Other than that, Mega Genset Malaysia also provide equipment that  genset needed such as oil filter, fuel filter and air filter .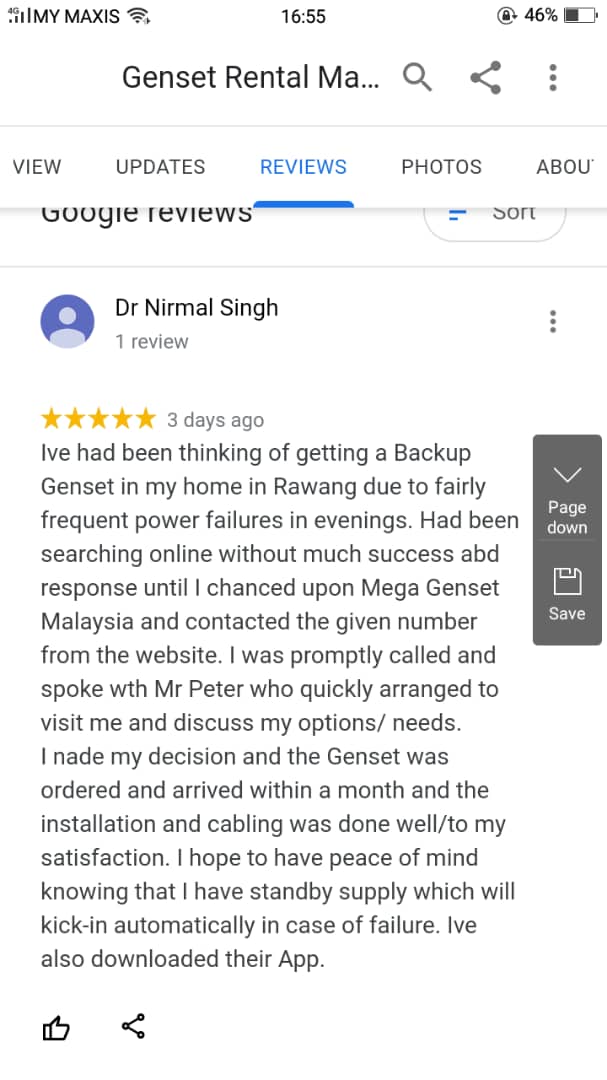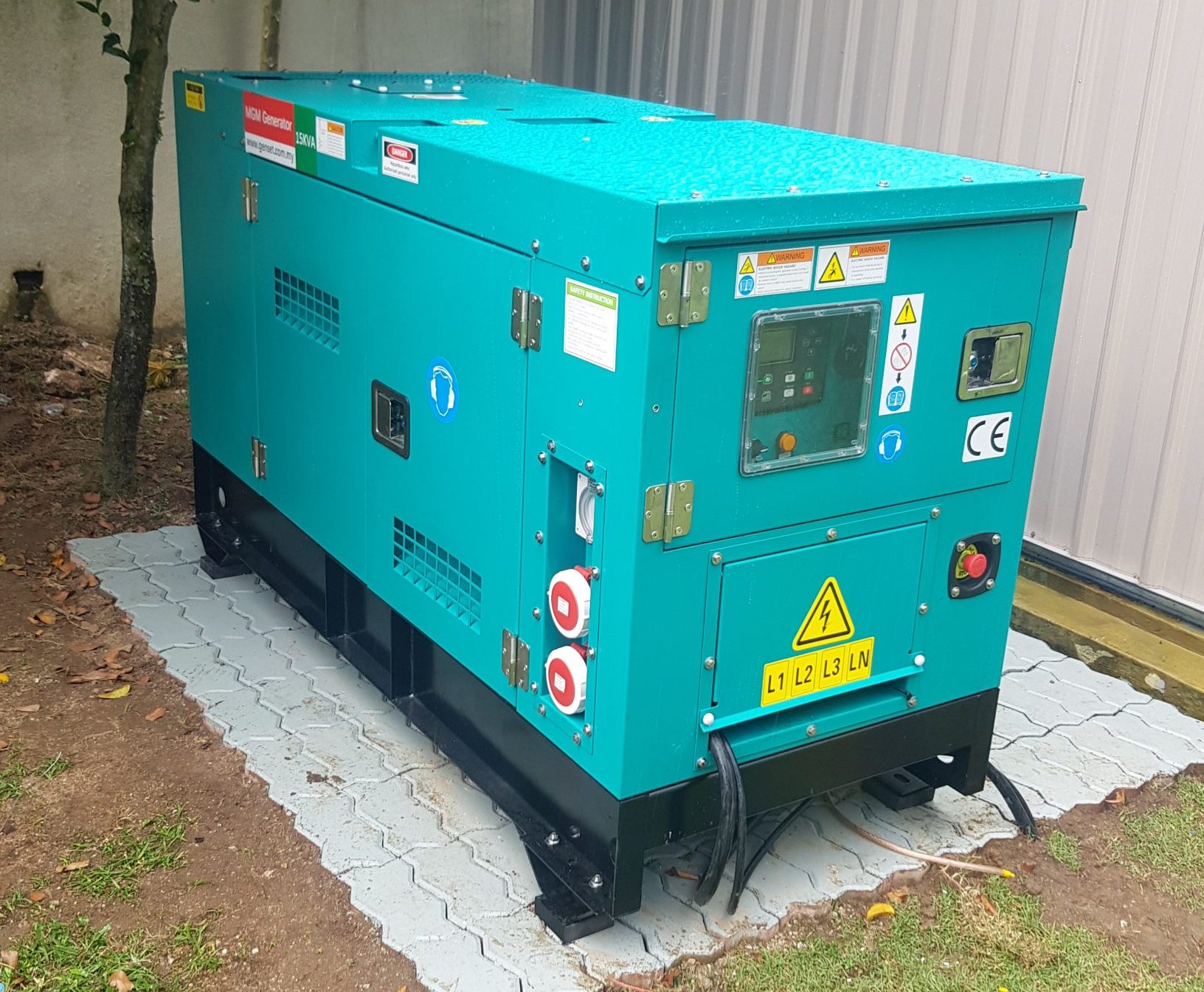 Our customer ( Dr Nirmal Singh ) bought a 15kVA generator Mark 12 for his backup generator . Our 15kVA generator comes with built in 32 Ampere and 13 Ampere socket so that you can connect your equipment directly into the generator without needing a Distribution Board. it offers the convenience of plugging directly. The Deep Sea Electronics system prevents all these by stopping the engine the moment a fan belt breaks, thus saving your engine.
belt breaks, thus saving your engine.

If you are still wonder about our MGM Generator , you can visit to our company to see how the generator works. Our technician will give a manual guide about the genset if you have any intention to buy or rent. As a leading supplier of the genset , our customer feedback is very important. We always encourage our customer to feedback their experience using MGM Generator.This is how we can improve and upgrade our product. Mega Genset selects the best components while maintaining low costs for our customers benefit, our service level standards are high and we provide warranty for all gensets that we provide. we provide all the installation, testing and commissioning of our reliable genset. We ensure our product is the best and cheaper in the market in order to maintain our customer needs and wants. The beautiful design with a latest version makes it looks more versatile.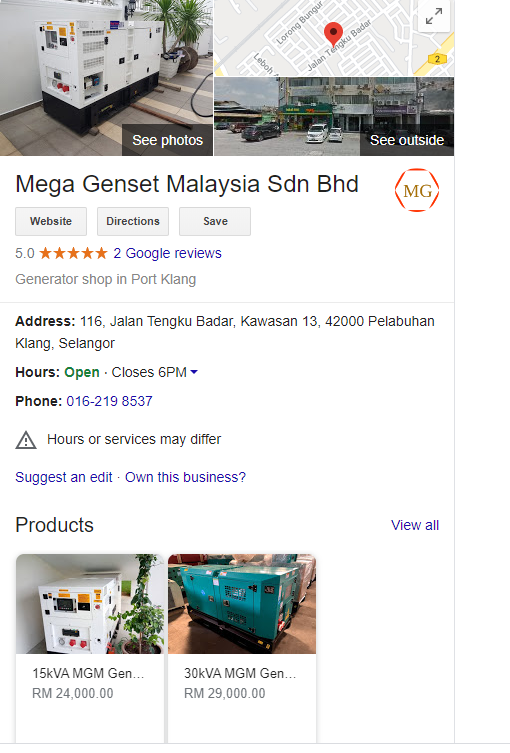 Probably, you still don't believe about the reliability of MGM Generators , come and follow our facebook pages .We always update all the previous customer that get rent or purchase from us. You can see our promotion there and latest version for almost every year. We ensure that people will feel happy joining our pages because interesting knowledge about the genset we will share with our sincere customer. Our customer can go through from facebook pages to see that our MGM Generator are suitable for events, backup generator ,or even tugboat.  Getting more about MGM brand is worth for your future backup genset.
MGM Generator : Customer Feedback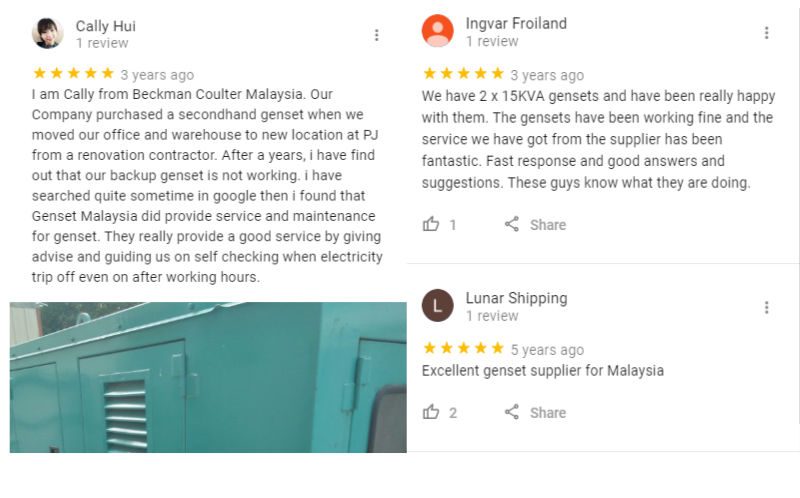 Our previous customer are satisfied using MGM Generator even though it is a secondhand unit . Our professional technician also will give them the best suggestion and guidance as much as they wanted to know about the genset. We also the supplier of every spare part that comes with our product. So our customer no need to worries because easily they can get from us. With the existing of MGM Generator surely it will make your life more happier .