We supply Power Generators to palm oil estates which are used to power their operations and living quarters. Contact us now to get one for your estate.
Gua Musang, Kelantan
It is a place where have many oil palm plantation. Oil palm is extremely important in our daily life. For example, it is used to produce foods, cooking oil, cosmetics aisle, soap, candle, bio-fuel and etc. Besides that, Indonesia and Malaysia has become the 85% palm oil provider in the world. It has dramatically increase the demand of palm oil production about sevenfold since year 1990 to year 2018 from 11 million tons to 71 million tons. Moreover, researchers also estimate that palm oil demand will probably double by year 2050.
To increase the productivity of oil palm, mechanical harvesting machine is required. Which also mean that power generator would required as there are no electricity supply in the forest. Furthermore, power generator also act as a backup power for the mechanical harvesting machine especially when the machine reaches low level of electricity.
Need a Generator?
Mega Genset Malaysia can provide good quality product and services as we operated since 2014. Our most popular small-medium size generator is 25kVA generator. Although it has only 1552mm length, 625mm width and 980mm height, it's power performance also rated high as 26kW. This genset not only can use in lorry, truck, it can also be use for farm, small construction site and home.
What's include inside the genset?
It include Rubber Diagonal Isolators, which used to lessen Engine and Alternator Vibration and to Prevent Distortion in the Voltage and Harmonic Output of Generator. Next, it also include Control System which also known as Smart Controller. It is used to display the overall performance of the genset for instance: temperature, battery and fuel level.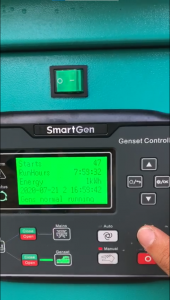 Figure 1: SmartGen Controller
In addition, it can also add on useful features on our genset which is Oversight Module. It is a mobile app which can control or monitor your genset in real-time. It is available to download on Android or IOS.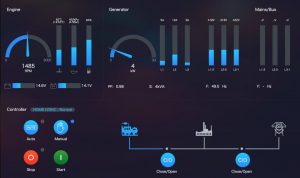 Figure 2: Oversight Module
For more information, click the button below to contact us.
Reach Us